Security Policy

Using your credit card on this website is the safest and most secure way to purchase your safety products. There is no handling of your credit card by anyone! Therefore, there is no risk of your card ever getting into the wrong hands. The security experienced by using your credit card on this site protects you from loss, misuse and any alteration of information you provide us while purchasing your products. All credit card information is received via the proven safe and secure 256-Bit SSL encrypted connection. You may log onto Select Safety Sales' SSL Certificate Page to learn more about this.

Even with this unparalleled protection, some individuals still have reservations about using their credit card when purchasing products on the internet. We will gladly accept your order by phone or fax. To order by phone, call (866) 864-3495. To order by fax, put all of the items into your shopping cart, and choose "fax order in" as the payment method. Then print the form, fill it out and fax it to (732) 381-4365.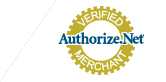 Authorize.Net transmits the information to the credit card clearing house (256-bit encrypted), receives the authorization and then transmits back to Select the credit card authorization code. (The authorization code is the only bit of information of yours stored on our computer). What this means is that your complete credit card information is never known or stored by Select!

As far as privacy goes, Autorize.net does not store personal information for any other reason than for record keeping for each transaction. If you need more information you may look at Authorize.net's Privacy Policy.
Our Commitment To Children's Privacy:
Protecting the privacy of the very young is especially important. For that reason, we never collect or maintain information at our website from those we actually know are under 13, and no part of our website is structured to attract anyone under 13.
Choice/Opt-Out:
This site gives users the following options for removing their information from our database to not receive future communications or to no longer receive our service:
[email protected]

Correct/Update/Review
This site gives users the following options for changing and modifying information previously provided. Or, you may review your information by contacting:
[email protected]
Contacting the Web Site:
If you have any questions about this privacy statement, the practices of this site, or your dealings with this Web site, you can contact:

Select Safety Sales LLC
Attn: Webmaster
PO Box 826
Clark, NJ 07066

Note: Product returns, and/or remittance, have a different mailing address or you may email us at [email protected]