Emergency Shower
The emergency shower that you choose should meet the ANSI Z358.1-2014 standard to protect your workers and make your workplace OSHA compliant. When there is a threat of chemicals being splashed on the body, an emergency shower that flushes at a minimum of 20 gallons per minute should be specified. Quite often a combination eye wash station and shower may be needed to protect both the eyes and the body.
Most Popular ANSI Z358.1 Portable Units
Our most popular portable eye wash stations below are simple to install and are a very economical solution when plumbing is not available at your facility. They are self-contained units and easy to install and can be placed near the work hazard quickly. Just add your own potable water and bacteriostatic solution (preservative) and you will have eye protection in you work area for 3 to 6 months, depending on the manufacturer's instructions.
Easy-To-Install Cartridge Units
Cartridge style Eye Wash Stations are self-contained units that provide you with super easy maintenance. All that you have to do is hang the unit on the wall with the wall brackets that are included with the purchase. It will be maintenance free for up to two years! You will not have to do anything else! The cartridge contains a preserved and sealed solution. After two years simply remove the cartridge and attach another one to the eyewash. Shown below are two of our stations with their cartridges.
Best Plumbed Wall-Mounted Deals
Select Safety highly recommends these 4 wall mounted plumbed eye wash stations. They are popular sellers because of their quality and price! If you have the plumbing in place or the option to install it, then a plumbed unit can be an ideal option. The Speakman SE-580 is a basic plastic model with standard flushing heads, the Haws 7260 features the Axion MSR flushing with an antimicrobial head and Speakman's Optimus SE-1000 is an Eye/Face Wash Unit that is ADA Compliant. The Opti Klens 1M offers a stainless steel bowl at an exceptionally good price!
Customer Favorite Faucet Style
A Faucet Eyewash is ideal for environments where the eyewash is able to be positioned on a sink. This type will keep your workplace compliant while not taking up too much space. There are two styles to choose from: One type easily screws onto the tip of an existing faucet such as the Opti-Klens eyewash and the Haws eye-POD. The other type is a complete unit with the faucet and eyewash combined such as the Speakman SEF-1800. This type will replace your existing faucet. Need help with your decision? Contact us at 866-864-3495!
Perfect For The Lab
These four lab units are perfect for a laboratory. They are easy to install and won't take up a lot of space which is ideal for a laboratory environment. There are swing away models that mount on the side of the deck or counter or swing down units that attach to the back of the sink. We also have wall mounted units. Contact us to find the best one for your environment and space!
Ideal for Freezing & Cold Environments
If your eye wash stations are going to be installed in a cold or freezing environment, the flushing fluid should be heated in order to be ANSI-Z358.1 compliant. This standard requires the flushing fluid to be between 60 and 100 Fahrenheit. Heated eye wash stations are ideal for outdoor areas or cold indoor environments. They keep the temperature in compliance so that workers can comfortably flush the contaminates from the eye for a full 15 minutes.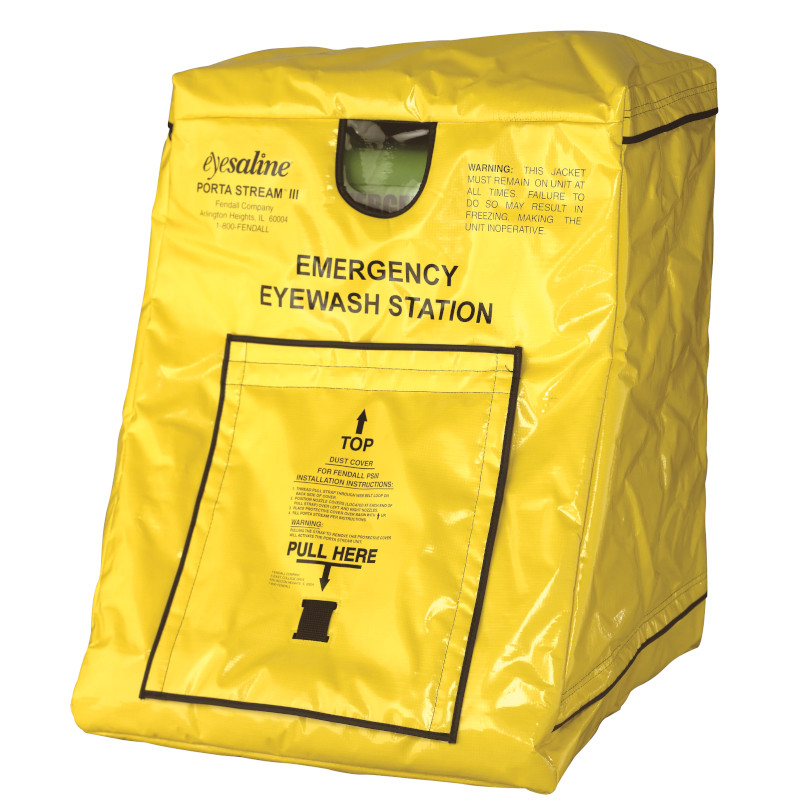 BLOWOUT PRICE!!:
$1,650.00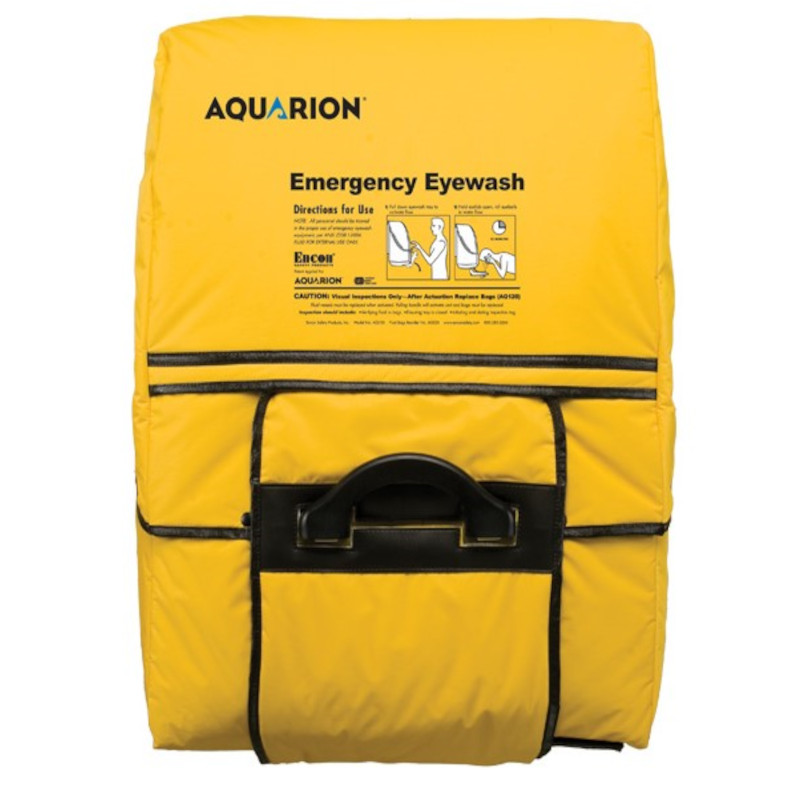 Do you need help choosing the best type of eye wash station? Read our guide to give you a better understanding about the different types of units and how to choose one!

How To Choose One




Do your employees know how to use an eyewash station? They should be trained so that they know the basic procedure before an accident happens.

How To Use One



HOW TO BE OSHA AND ANSI COMPLIANT MADE SIMPLE
Th
e

ANSI Z358.1-2014 Standard sets fourth guidelines to follow for proper location and placement of this safety equipment.
Each type of OSHA & ANSI compliant station has a different maintenance schedule that ensures the unit is in proper working order in case of emergency.
There are plumbed eyewash stations which draw tap water from the pipes in a building and portable eye wash stations that are self-contained with their own solutions that do not require the use of water plumbed-in from your building.
ANSI Z358.1-2014 Standard
They should be installed at "accessible" locations and reachable within ten seconds

Both plumbed and self-contained units should deliver a 15 minute continuous flow

These units should be installed wherever caustic or hazardous substances are present

Check all relevant MSDS sheets at your facility to determine if the chemical or substance requires 15 minute eye flushing

They should have an on-off valve that activates within one second or less with a single motion

This safety equipment must be located in an area free of obstructions because this could inhibit immediate use

Flushing fluid temperature should be between 60º F and 100ºF.
For more detail of the ANSI Standard Requirements, click here on our article:
What OSHA and ANSI Say...