Pepper Mace Spray, Pocket Model
Easy aim feature makes this model ideal for emergency use. Compact design and finger-grip dispenser fits comfortably in woman's hand. 11 gram stream unit sprays 6-12 feet. Contains 5, one second bursts.
Mace Pepper Spray broke the mold and started the Defensive Chemical Spray concept. If you have never had a chance to hold a canister of Mace, or you've only bought other brands of spray, then you owe it to yourself to give Mace a try. It is still the most reliable self-defense spray on the market.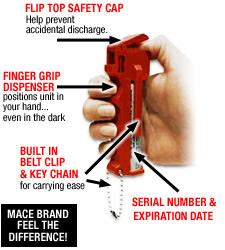 Mace started using CN Tear Gas, OC Pepper, and UV Dye right from the start. The real difference comes from distinct features such as the Finger Grip Dispenser, Flip-Top Cap, and Glow-in-the-Dark firing buttons. When will you need your spray? That is a hard question to answer, but you can bet that 98% of the time - you will need it in a hurry! The features above were invented and added to most Mace sprays with just that intention....Survival! It is you against the 'Bad Guys', and we all know that the 'Bad Guys' don't play fair. Protect yourself or loved ones tomorrow; buy Mace Pepper Spray today!